Process your Registration
NextGen 2015 is taking place July 30th & 31st in the DC Metro Area.
Select the corresponding number of registration tickets you are purchasing.
- To purchase via credit card select the "Order Now" button.
- To purchase offline, click the "show other payment options" link under the "Order Now button". An invoice will be emailed and mailed to the ticket buyer.
For more information, please scroll down or check out the NextGen FAQ's. You may also contact the NextGen coordinator for assistance: 202.407.7408.

What are you doing to enhance your future? 
Are you getting the training you need?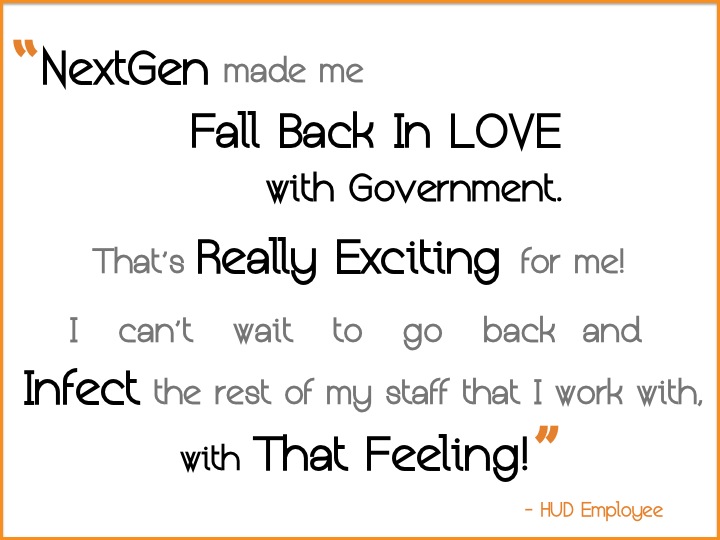 You Should be! Don't miss out on the SUPER Early Bird pricing while it lasts – $200 off the general registration price, such a bargain!
The Next Generation of Government Training Summit educates, inspires and promotes innovation for new and rising leaders in government. Since 2010, the two day summit has enhanced the working and personal lives of 2,500+ Generation X and Y government employees excited to learn new skills needed to innovate.
Gen X & Y leaders learn and implement new skills far different than traditional methods. With NextGen, the newer generations in government can grasp the message and skills that are delivered via workshops, interactive sessions, office hours with leaders, and immediately begin executing these traits in the office.
The two day's of NextGen provide attendee's with a breadth of knowledge, many immediately implementable tips, and motivation to be a diligent government colleague.  To get similar training would require attending multiple courses that cost thousands of dollars and many days out of the office. NextGen is a fraction of the cost and is a jam-packed two days full of enjoyable education.
About the Co-Hosts:
GovLoop is the Knowledge Network for Government with a mission to help government professionals do their job better. We help our 100,000 members through a variety of knowledge based programs such as free online trainings, research guides, in-person events, infographics, blogs and newsletters. The GovLoop community is a mix of Federal, State, Local and industry professionals dedicated to improving government through collaboration and engagement.
Young Government Leaders (YGL) is a professional organization of men and women employed by or for the government who are "young" in their service and/or "fresh" in their perspective. Our mission is to educate, inspire, and transform the current and future leaders of government. Our membership consists of over 7,000 (and counting) young feds at almost 30% of the approximately 435 U.S. departments and agencies. Our organization is committed to serving as a coordinated voice for the current and future generations of young government leaders by providing a community of leadership through professional development activities, networking opportunities, social events, seminars, fellowships, and scholarships.
Who Should Attend NextGen?
You! NextGen is comprised of new and/or growing Generation X and Y leaders in government. There are specific sessions for everyone, from the greener newbies in government to those who have moved up the ranks and seeking their next step. If you're in government, wanting to innovate and willing to make change happen – NextGen is the place to be! You'll be joined by peers in over 50 agencies, such as EPA, HUD & HHS, as well as govies from state and local governments.
Does this Relate to the Training I Need?
Yes! NextGen is 100% focused on building and growing government leaders. Every training session is mapped to the OPM Senior Executive Service, Executive Core Qualifications (Leading Change, Leading People, Results Driven, Business Acumen, Building Coalitions) and the underlying fundamental core competencies. Also, you may be able to draw additional connections between these competencies and your individual development plan (IDP), if you have one. Demonstrating to your agency how NextGen will help you meet some of the targeted skills or development training as identified on your IDP can be a valuable justification. 
Also, you'll earn a maximum 12 Continuing Professional Education (CPE) credits in personal development for attending both days of NextGen.
Delivery Method: In-Person
Program Level: Intermediate
Prerequisites: No prerequisites are necessary.
Advance Preparation: Some individual sessions have pre-required reading; please note that on the agenda.
Registration: Is required by all attendees. The registration fee is based on timing and current position.
Contact Megan Dotson at [email protected] for details on obtaining CPE credit for the NextGen In-Person Summit and the Online Training Series.
GovLoop is registered with the National Association of State Boards of Accountancy (NASBA) as a sponsor of continuing professional education on the National Registry of CPE Sponsors. State boards of accountancy have final authority on the acceptance of individual courses for CPE credit. Complaints regarding registered sponsors may be submitted to the National Registry of CPE Sponsors through its website: www.learningmarket.org.
Where Can I Find the Training Schedule?
The final 2015 training schedule will be posted in February. All of the courses will be aligned with the OPM ECQ's. Check out our 2014 schedule and a list of past speakers.
---
Registration Information
Who Can Register?
Registration is on a first come first served basis and is open to emerging and seasoned leaders in government, academia, non-profit and government contractors. There is a cap on the number of government contractors, so register today if you are interested in obtaining one of these limited slots. When it is all said and done there will be a room full of 600+ emerging leaders in government ready for more inspiration, education and networking.
How Do I Process the Payment?
Scroll up and you'll find the various registration categories. Select the one that fits you best and continue to fill out the form on the next screen. If you are a government employee, student or government fellow please select the government registration rate; everyone else please use the general registration rate. 
Paying without a Credit Card?
If you'd like to process payment without using a credit card, click the "show other payment options" link under the "Order Now" button. From there, you can pay offline. Once your registration is processed an invoice will be sent to you via email within 72 hours. If your payment & paperwork are not received prior to 7/24/2015 your registration will be automatically cancelled. To submit your SF182 forms, email them to [email protected]. 
What are the Registration Fees?
Refer to the table below, rates change based on date range and attendee classification. All registration fees include two day's of training, 2 continental breakfasts and 2 lunch buffets, along with all the registration materials. 
| | | | |
| --- | --- | --- | --- |
| | Gov't Group Rate | Gov't Rate | Contractor Rate |
| Super Early Bird (Anytime in 2014) | - | $675.00 | - |
| Early Bird (1/1/15 – 6/19/15) | $685.00 | $785.00 | $1,025.00 |
| General (6/19/15 – 7/30/15) | $775.00 | $875.00 | $1,300.00 |
The Group Rate is applicable to groups of 5 or more people. To properly obtain the group rate, full group registration must be processed at one time. For more information, or have a special circumstance, please send an email to [email protected].  
Do you Allow Badge Sharing or Have One Day Passes?
Badge sharing is permitted. However, if you're only able to attend one day, please be sure to purchase the one day pass. One day passes do not accept other discounts. One day passes are $475 each.
How do I get Approval to Attend?
It's not too tough, hundreds of your peers are doing it! First, take a few tips from the HR Toolkit – it includes an Official Justification Letter, how the sessions are mapped to OPM's ECQ's and MANY more ways to "pitch" this optimal training summit to your supervisor. Keep in mind, this is a great opportunity for you to grow your career and make you a better public servant…don't miss out!
---
Traveling to DC
How do I get to the Crystal Gateway Marriott?
The Crystal Gateway Marriott is accessible via metro or car. Metro: Take the Blue or Yellow line to the Crystal City Metro stop. The hotel is accessible from the metro underground hallways, look for proper signage to the Crystal Gateway Marriott (to the left – not the Crystal City Marriott to the right). By Car: There are parking garages in the near by area or you can pay $12 for self-parking on the hotel premises. For directions click here.
---
Other Frequently Asked Questions
What if I Need Communication Assistance?
Reasonable accommodations will be provided to any registrant requesting communication accommodations, the request must be made no later than June 26th. NextGen supports all of its attendees and will provide the proper assistance to ensure everyone can communicate and learn. If available, slides will be sent in advance to any registrant who requests them for pre-screening purposes. Notify the summit coordinators with any requests.
What is the Dress Code?
NextGen is a place to learn, so be sure you're comfortable to do that. Many people wear business casual, however some do sport jeans and a nice shirt. 
---
The Fine Print
Press Policy
All general sessions are on the record, unless otherwise stated. The breakout sessions are not for attribution, unless specifically authorized to do so by the speaker. If you are a speaker and have a specific policy for the summit to adhere to, please let the summit coordinator know immediately. If you're a member of the press and would like to obtain a press pass, please email your information to [email protected]. 
Anti-Harassment Policy
NextGen is dedicated to providing a harassment-free training experience for everyone, [regardless of gender, gender identity and expression, sexual orientation, disability, physical appearance, body size, race, or religion]. We do not tolerate harassment of summit participants in any form. Sexual language and imagery is not appropriate for any summit venue, including talks. Summit participants violating these rules may be sanctioned or expelled from the summit [without a refund] at the discretion of the summit organizers.
Cancellation Policy
Cancellations must be made in writing and submitted prior to July 10th for a full refund. Any cancellations made after July 10th are non-refundable; however substitutions are accepted. Any person who does not attend will be charged the full registration fee. Please submit your written cancellation to the summit coordinator with a time stamp, attendees full name, order number and registration fee.
Any off-line registrations, to be paid by invoice, that are not paid by July 24th will result in an automatic cancellation. To process payment on an invoice contact the accounting department on the invoice or email the summit coordinator immediately. 
Any cancellation or refund questions or concerns may be directed towards the Megan Dotson, NextGen Event Director, at 202.407.7408 or via email.